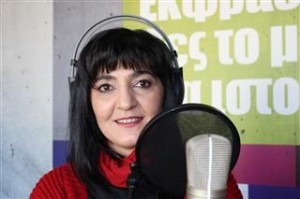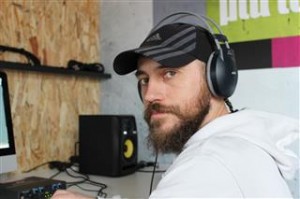 The library broadcasts a podcast on the internet. The broadcast is live and talks about books, for the library, and the precious treasures for which the new site and program is implemented. An important part of this effort will be that the youth will have not only the access and the ability to create, but rather more important is the ability to present their views in an intimate setting, which they recognize well and can be expressed freely!!
The show will be uploaded to the site on the following day. Presented by Despina Amarantidou and the music producer Niko Momtsio.
In the library media-lab every Thursday 19:00-20:00
List of broadcasts
23. 31/03/2015
Photo exhibit of Mr. Nicholas Skafida, photographer, with the theme "Wandering the gypsy neighborhoods" with the occasion on the day of racism, March 21st, the day of the Roma festival at the Municipal Map Library "Lassani Mansion" and Pericles Kafasis talks about action "children's book".

22. 03/03/2015

21. 10/02/2015
Vasilis Bougiotopoulos, political scientist, discussed the novel of Bulgakov The Master and Margarita, "the manuscripts do not burn", and Fani Ftaka-Tsikritzi, president of OAPN, for the apokries.

20. 27/01/2015
We welcome the communicator Ioanna Kostarella.

19. 13/01/2015
The first show of 2015.

18. 24/12/2014
Christmas show with giaprakia and carols.

17. 9/12/2014
Talking about G.M. Vizyino with the professor of the Philology department of the Aristotle University of Thessaloniki Lambros Varella.

16. 25/11/2014
Ptochoulis, Panayiotis, Vice President of the KMLK.

15. 18/11/2014
14. 11/11/2014
Tribute to the Polytechnic, actions of the library- Eleni Margariti, Book reviews- Matina Vamva.
13. 4/11/2014
Panayiotis Demopoulos, President of the KMLK, Astronomy and Space Company- Annex of Kozani- Plexidas, Nikos, Book review- Matina Vamva.

12. 14/4/2014

11. 7/4/2014

10. 2/4/2014

9. 31/3/2014

8. 24/3/2014

7. 17/3/2014

6. 10/2/2014

5. 4/2/2014

4. 27/1/2014

3. 21/1/2014

2. 15/1/2014

1. 17/12/2013